Home » Entertainment »
"Chief Minister, you are the worse product of nepotism": Kangana's stinging attack on Uddhav (VIDEO)
October 26, 2020 12:50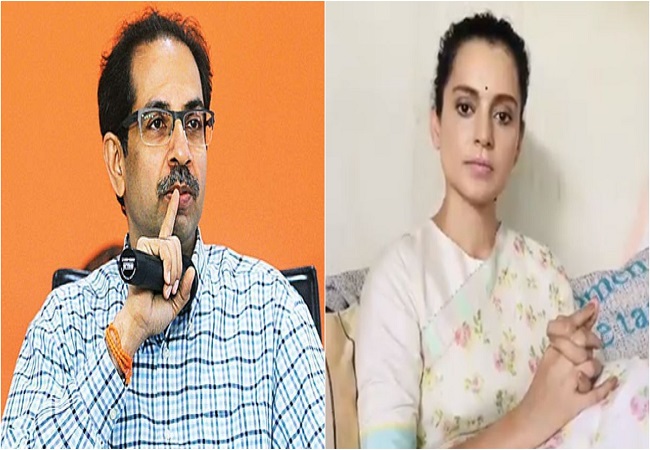 Shiv Sena has given up on Balasaheb's ideals to become 'Sonia Sena', says Kangana Ranaut
New Delhi: Bollywood actor Kangana Ranaut releases a video message for the Maharashtra government after Uddhav's jibe during an address at a political rally. The war of words between Kangana Ranaut and Maharashtra Chief Minister, Uddhav Thackeray continues.
Following Uddhav Thackeray's 'Namak Haram' JIBE: Kangana Ranaut releases Video Message for Maharashtra government
| @OfficeofUT @ShivSena @KanganaTeam |
Read here: https://t.co/4oz66mraEx pic.twitter.com/mk41koOW8Q

— Newsroom Post (@NewsroomPostCom) October 26, 2020
Chief Minister I am not drunk on my father's power and wealth like you, if I wanted to be a nepotism product I could have stayed back in Himachal, I hail from a renowned family, I didn't want to live off on their wealth and favours, some people have self respect and self worth.

— Kangana Ranaut (@KanganaTeam) October 26, 2020
Raut called me Haramkhor now Uddhav called me namak haram, he is claiming I won't get food in my state if Mumbai does not give me shelter, shame on you I am your son's age this is how you speak to a self made single woman, Chief Minister you are the worse product of nepotism. https://t.co/uV5RCf3R0W

— Kangana Ranaut (@KanganaTeam) October 26, 2020
Also Read: Uddhav Thackeray is dividing country… who has made him Maharashtra ka thekedaar?: Kangana hits back at Maha CM
Kangana Ranaut has shared a number of tweets in her response to Maharashtra chief minister who pointed out indirectly that it was her state — Himachal Pradesh where ganja is grown. She called him a "petty person" and said that his "filthy speeches are a vulgar display of your incompetence."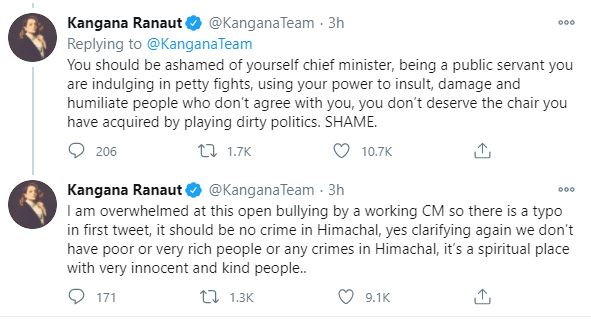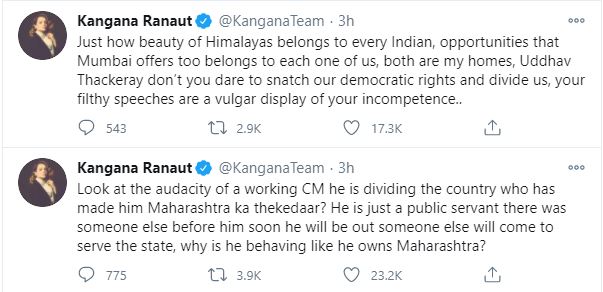 Without naming Kangana Ranaut or Himachal Pradesh, Uddhav had said during his Dussehra speech on Sunday that some people come to Mumbai for bread and butter and abuse the city by calling it Pakistan-occupied Kashmir (PoK). "Mumbai is PoK, there are drug addicts everywhere – they are painting such a picture. They don't know in our house we grow tulsi, not ganja. Ganja fields are in your state, you know where, not in our Maharashtra," he said.