Home » Entertainment »
Twitter suspends Kangana Ranaut's account after series of controversial tweets, Twitterati celebrate
Twitter gets flooded with memes as people had different views on the suspension of her Twitter account, Kangana has always been in news due to her tweets.
May 4, 2021 12:57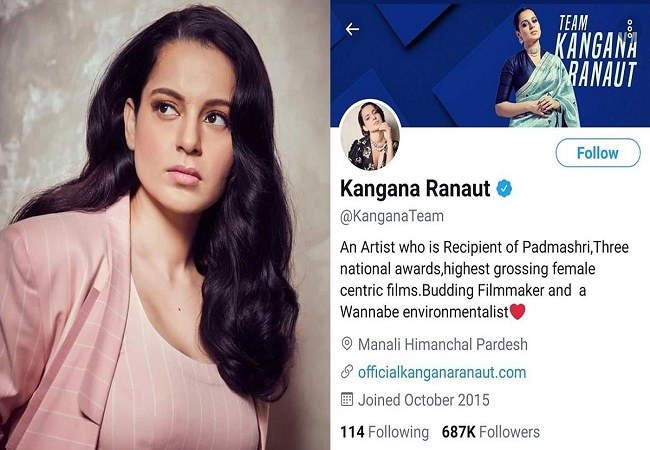 New Delhi: Twitter suspended the account of Bollywood actress Kangana Ranaut who allegedly broke the rules of the micro-blogging site. This news flooded the Twitter with memes as many Twitterati thanked the CEO Jack and his team for suspending her account.
This comes after she posted a video on social media about the newly elected West Bengal CM Mamata Banerjee and compared her to demon 'Tadka'. She also demanded for President's Rule in West Bengal.
Actress @KanganaTeam demands #PresidentRuleInBengal. She added, Mamata Banerjee 'not Ravana', she's 'blood thirsty demon Tadka'

read more – https://t.co/dl04nXGETr pic.twitter.com/mkJLaATlZj

— Newsroom Post (@NewsroomPostCom) May 4, 2021
Twitter Reactions: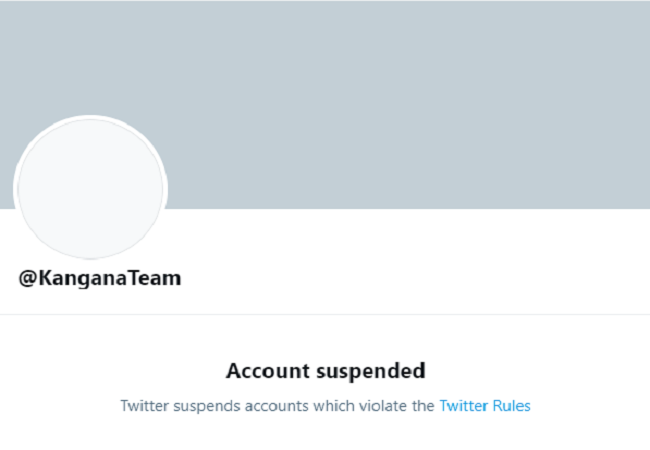 People said Twitter is now much peaceful and clean after Kangana's account was suspended:
TWITTER

When Kangana After her account
Was Active got suspended pic.twitter.com/v4uevulIdP

— A N K I T (@iAnkitaker) May 4, 2021
While some people compared it with being thrown out of a car:
#KanganaRanaut twitter account suspended .

Twitter to Kangana – pic.twitter.com/REUEcMznIm

— YOGENDRA SINGH DIKHIT (@ItsDikhit) May 4, 2021
Journalist Sakshi Joshi also commented on this incident.
One hatemonger suspended

It was long due @jack @Twitter @TwitterIndia #KanganaRanaut

— Sakshi Joshi (@sakshijoshii) May 4, 2021
Some people even called Kangana a 'virus'
One virus left the twitter 🥰 now waiting for other virus to leave the country 😟😟 #KanganaRanaut pic.twitter.com/1MbBPGDQpN

— chubs★ (@pikusupremacy) May 4, 2021
Some people also said that they were waiting for this moment from a long time:
After Kangana's account suspended
People be like :#KanganaRanaut pic.twitter.com/ThCtsaZirS

— Rohan Bora (@RohanBora99) May 4, 2021
Kangana Ranaut looks for her Twitter account.
🙄😂 #KanganaRanaut are didi 😂 pic.twitter.com/RiR09kBSfL

— नितिन पूनियां (@nittu_poonia) May 4, 2021
Fans even said Hrithik Roshan would be so happy and thankful for Twitter CEO Jack
Hrithik going to meet Jack to thank him for supending #KanganaRanautpic.twitter.com/dAU6vbyJ1w

— Tweeting Quarantino (@rohitadhikari92) May 4, 2021