PM Modi tops Indian Twitter charts again; BJP leaders occupy 7 out of Top 10 spots (Full List)
Check out wide-ranging monthly report of Twitter engagement in 10 categories including Politics, Business, Bollywood & others. Like October, PM Modi enjoys top spot while other BJP leaders make entry in Top 10.
December 24, 2020 20:14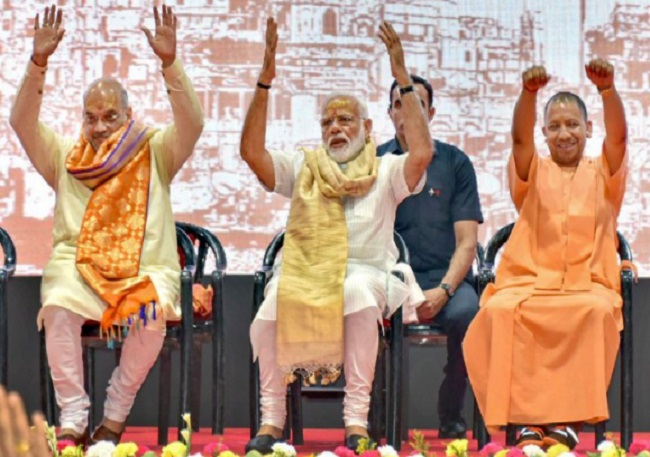 New Delhi: Going by Twitter engagement charts, Prime Minister Narendra Modi's charisma and mass appeal remains intact and unchallenged despite wave of farm laws protests. In fact, other BJP leaders including Amit Shah and Yogi Adityanath have recorded big jump in their Twitter engagements, last month.
Twitteet, a social media analytics firm, has put together Indian Twitter engagement rankings, which serve as no less than a barometer to check the popularity of public personalities.
In Twitteet's November analytics report, Prime Minister Narendra Modi has once again topped the Twitter Engagement Rankings with over 7.6 million engagements (as against 7.2 million in October).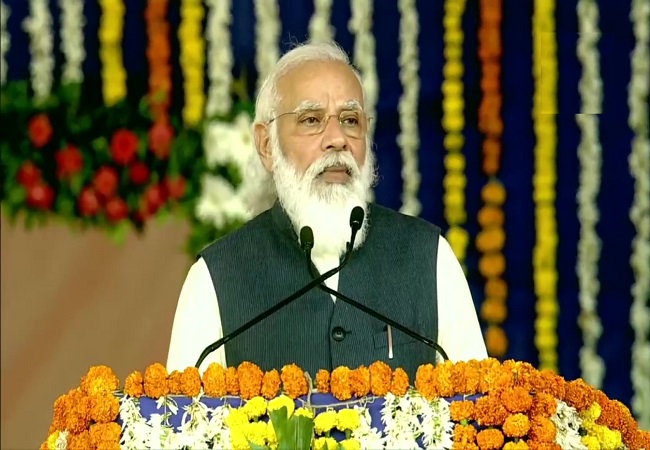 Rahul Gandhi, who was closest to PM Modi in October report, has been replaced by Amit Shah and Yogi Adityanath with both occupying the 2nd & 3rd spot with 2.7 million and 2.67 million engagements respectively.
Apart from Top 3 spots, BJP leaders have occupied other 4 spots in the Top 10 Twitter engagement chart. Spokesperson Sambit Patra, BJP President JP Nadda, Jyotiraditya Scindia and Shivraj Chouhan have been ranked at 6,7,9 and 10 respectively.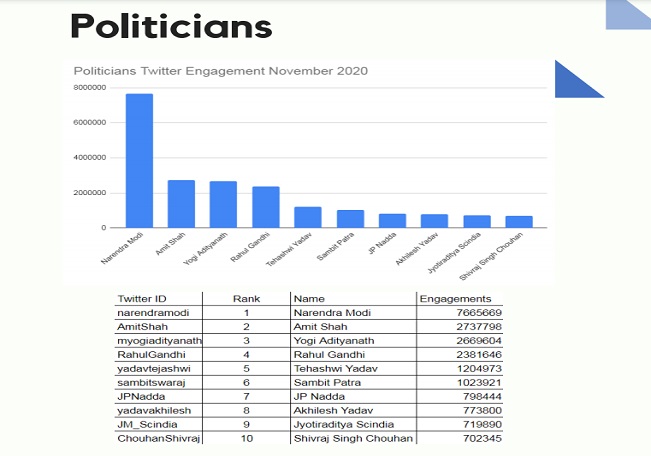 Greater Hyderabad Municipal Elections and DDC elections in Jammu and Kashmir found strong resonance of the Bharatiya Janata Party (BJP) and the same apparently has reflected in the Twitter Index for November 2020.
Congress leader Rahul Gandhi has dropped from #2 to #4 while RJD's Tejashwi Yadav and Samajwadi Party's Akhilesh Yadav are the only other politicians to figure in Top 10.
November 2020 – Twitter Rankings
1. Politicians – Narendra Modi – 7665669 Twitter Engagements
2. Bollywood Stars – Sonu Sood – 1384353 Twitter Engagements
3. Business Heads – Anand Mahindra – 400105 Twitter Engagements
4. Cricketer – Virat Kohli – 1776838 Twitter Engagements
5. Sports Star (non-cricket) – Vijender Singh- 353231 Twitter Engagements
6. TV Star – Sidharth Shukla – 340036 Twitter Engagements
7. Journalists – Deepak Chaurasia – 2508471 Twitter Engagements
8. Founders – Kunal Shah – 72355 Twitter Engagements
9. Comedians – Kunal Kamra – 1853563 Twitter Engagements
10. Regional Cinema Stars – Mahesh Babu – 914669 Twitter Engagements
Twitter Engagement – Journalists
Among the journalistic fraternity, senior TV scribe at News Nation Deepak Chaurasia has topped the Twitter chart with a whopping 25 lakh Twitter engagements. Other journalists who have figured in Top 10 list, prepared by Twitteet include Sudhir Chaudhary of Zee News, Rubika Liyakat of ABP News, Rajat Sharma of India TV.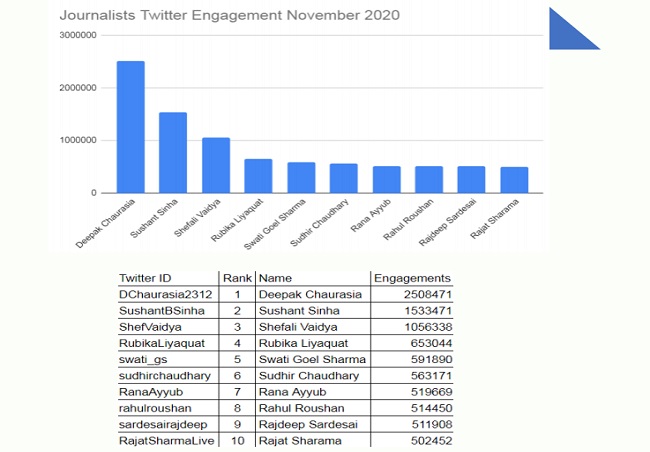 Sushant Sinha was at #2 with 1.5 million engagements followed by Shefali Vaidya with 1.05 million engagements. ABP News's Rubika Liyaquat was at #4 with 6.5 lakh engagements followed by Swarajya's Swati Goel Sharma with 5.9 lakh engagements, ZEE News's Sudhir Chaudhary and Rana Ayyub.
Veteran journalist and India Today's Consulting Editor Rajdeep Sardesai was at # 9 with 5.1 lakh engagements and India TV's Rajat Sharma was at #10 with 5 lakh engagements.
Twitter Engagement – Bollywood stars
Sonu Sood's humanitarian work during the pandemic continues to see huge resonance on Twitter where even at a Twitter following of a tenth of super star Shah Rukh Khan (Sonu Sood's 5 million followers to SRK's 41.4 million followers) he topped Twitter engagement among Bollywood Stars with a whopping 13.84 lakh engagements. Anupam Kher was at #2 with 7.6 lakh engagements and Akshay Kumar with 4.8 lakh engagements was at #3.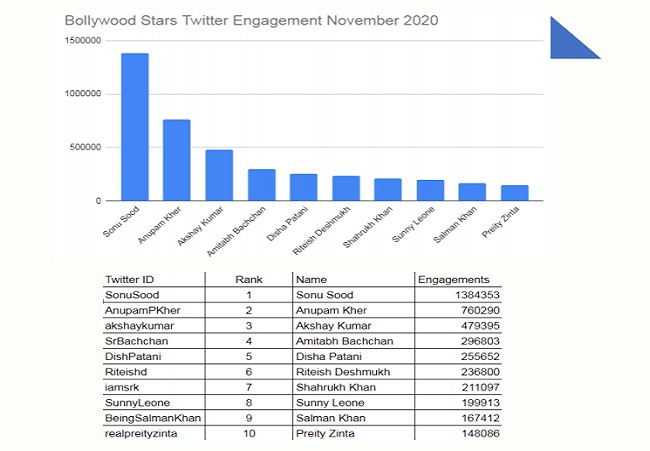 Disha Patani with 2.55 lakh engagements, Sunny Leone with 2 lakh engagements and Preity Zinta with her active tweeting during the IPL that got her 1.8 lakh engagements were the 3 lady stars on the Bollywood Top 10.
Twitter Engagement – Business Heads
In the Business Leaders category, Anand Mahindra towers over others with over 4 lakh engagements. RPG Groups chief Harsh Goenka is at #2 with 2.5 lakh engagements. Ratan Tata was at #3 with 1.33 lakh engagements.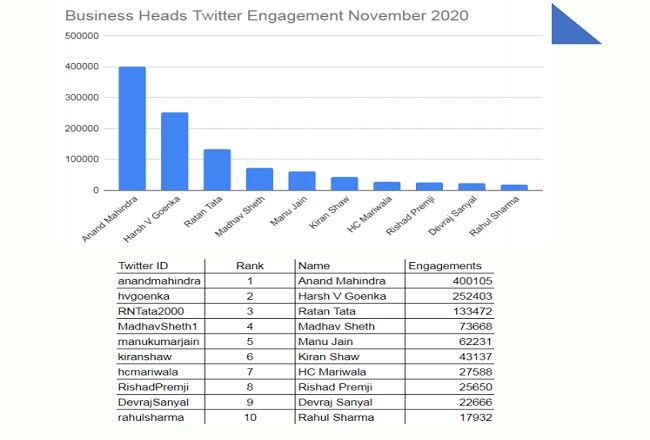 Chinese mobile phone brands India CEO's Madhav Sheth of RealMe and Manu Kumar Jain of XioMi and are at #4 and #5 respectively with 72K and 62K engagements respectively. Universal Music's India Head Devraj Sanyal with 22K engagements was the surprise new entry.
Twitter Engagement – Cricket
The IPL was the flavour of the season for cricketers where expectedly India captain and expectant father Virat Kohli topped Twitter engagement with 1.77 million engagements. Suresh Raina was at #2 with 1.56 million engagements.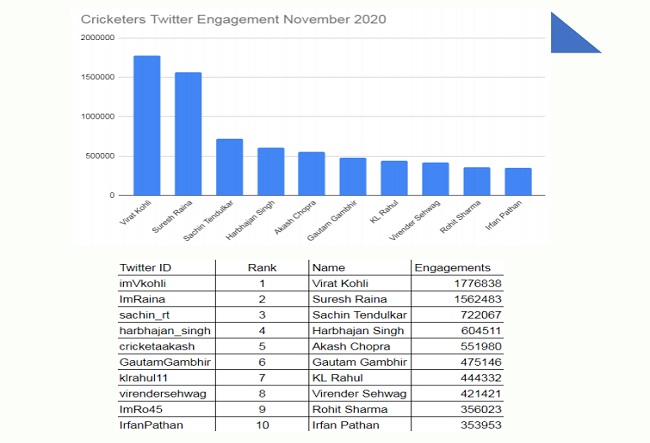 Former stars Sachin Tendulkar at #3, Harbhajan Singh at #5, and Virendra Sehwag at #6, actively engage with fans and followers on Twitter with 7.22 lakh; 6 lakh and 4.2 lakh engagements. Perennial favourite Mahendra Singh Dhoni was completely inactive on Twitter in October despite more than 8.1 million followers
Twitter Engagement – Sports Star non-Cricket
Among Indian sports persons, outside of cricket, Olympic medallist, pro-boxer and Congress politician Vijendra Singh tops with 3.53 lakh engagements. His support to the farmers protest did help boost his twitter engagement. Badminton star Saina Nehwal was at #2 with 3.46 lakh engagements way ahead of compatriot PV Sindhu who was #7 with 52K engagements. Perhaps the India's best kept secret in sports is veteran pistol shooter, coach and sports enthusiast 88-year old Dadi Chandro Tomar, better known as 'Shooter Dadi' from Baghpat, UP.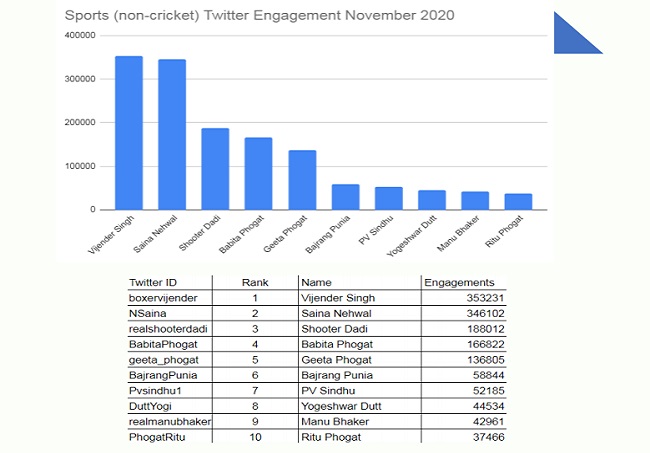 She was at #3 in the non-cricket sports category with a phenomenal 1.88 lakh engagements leaving superstars like Babita Phogat, Bajrang Punia and Manu Bhaker behind!
Twitter Engagement – Comedians
Among comedians, Kunal Kamra topped impressively with 18 lakh engagements with the net highest Vir Das with 6.5 lakh engagements, Ashish Chanchlani was at #3 with 6.15 lakh engagements.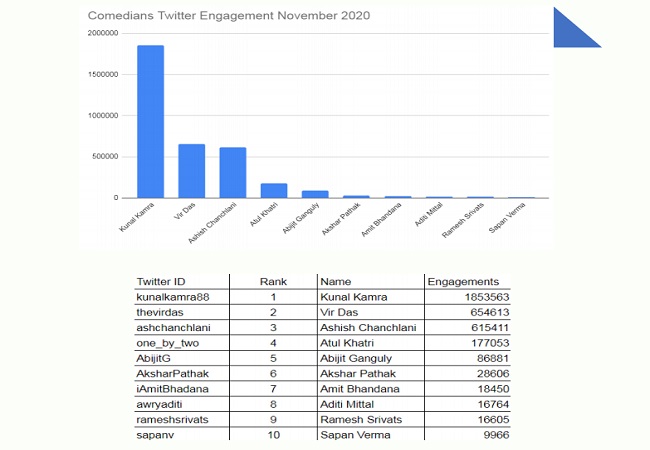 Twitter Engagement – Founders
Cred Founder Kunal Shah towered over the Business Founders category with 72K engagements.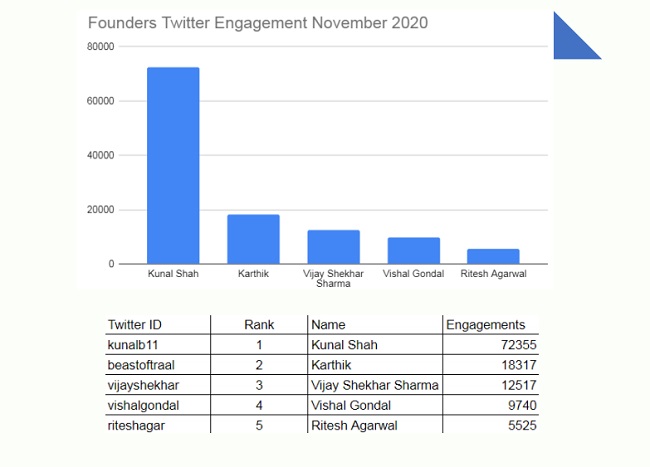 Twitter Engagement – TV Stars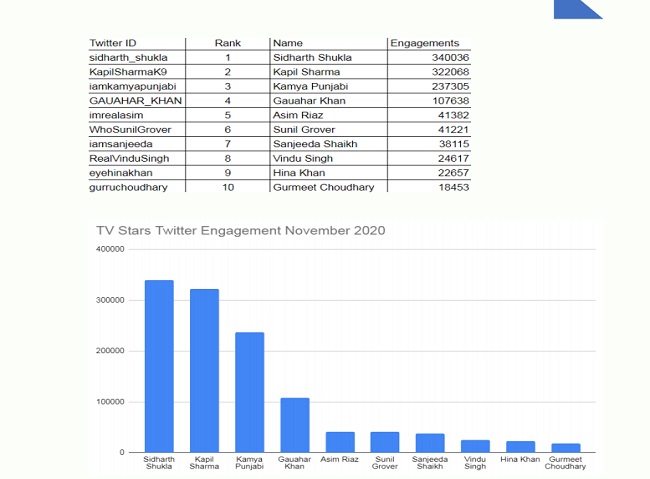 Twitter Engagement – Regional Cinema Actors