Sharad Pawar defends Anil Deshmukh, says he was in hospital from Feb 5-15
As per this tweet, Anil Deshmukh was giving his statement regarding celebrity tweets on the issue of farmers' protest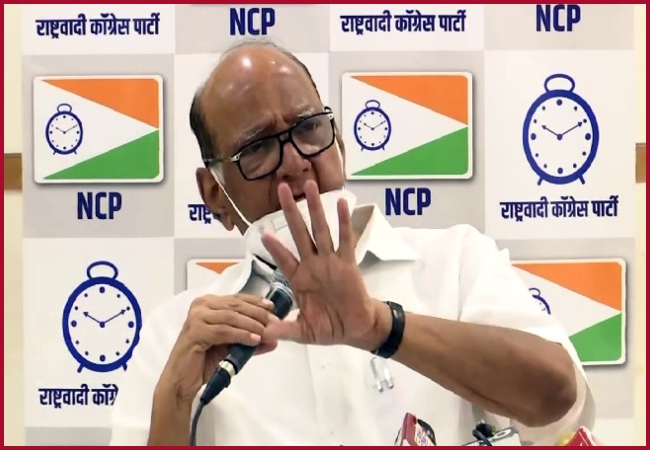 New Delhi: NCP chief Sharad Pawar on Monday in a press conference said that Maharashtra Home Minister Anil Deshmukh did not meet Sachin Vaze as he was admitted to the hospital that time because of Corona.
Sharad Pawar said, 'If you see the former Commissioner's letter, he mentions that in mid-February he was informed by certain officers that they got such and such instructions from Home Minister…From 6th-16th Feb, Mr. Deshmuklh was admitted in the hospital because of Corona.'
It is clear that during the period about which the allegations were made, Anil Deshmukh was hospitalised. As this is clear, such demands hold no power, said Sharad Pawar when asked about BJP's demand of Maharashtra Home Minister's resignation.
Watch what he said:
#WATCH: NCP chief Sharad Pawar replies to questions over BJP's Amit Malviya's tweet that Maharashtra Home Minister Anil Deshmukh was holding a press conference on Feb 15th, as opposed to the NCP chief's statement that he was admitted to hospital at the time. pic.twitter.com/7f4lYLIdaV

— ANI (@ANI) March 22, 2021
But this press conference for February 15 says something else. As per this tweet, Anil Deshmukh was giving his statement regarding celebrity tweets on the issue of farmers' protest.
शेतकरी आंदोलनाच्या मुद्यावर सेलिब्रिटीजनी केलेल्या ट्विटसंदर्भात माझ्या वक्तव्याचा विपर्यास करण्यात आला. सेलिब्रिटीजची चौकशी करा, असे माझे आदेश नव्हते. या प्रकरणात भाजपच्या आयटी सेलचा सहभाग असण्याची शक्यता वाटल्याने मी त्यांच्या चौकशीचे आदेश दिले होते. लता मंगेशकर आमचे दैवत (१/२) pic.twitter.com/WBdtzUH2x1

— ANIL DESHMUKH (@AnilDeshmukhNCP) February 15, 2021