Tripura, Meghalaya, Nagaland Election Result: CM Conrad dials HM Amit Shah for support and blessings in forming new Govt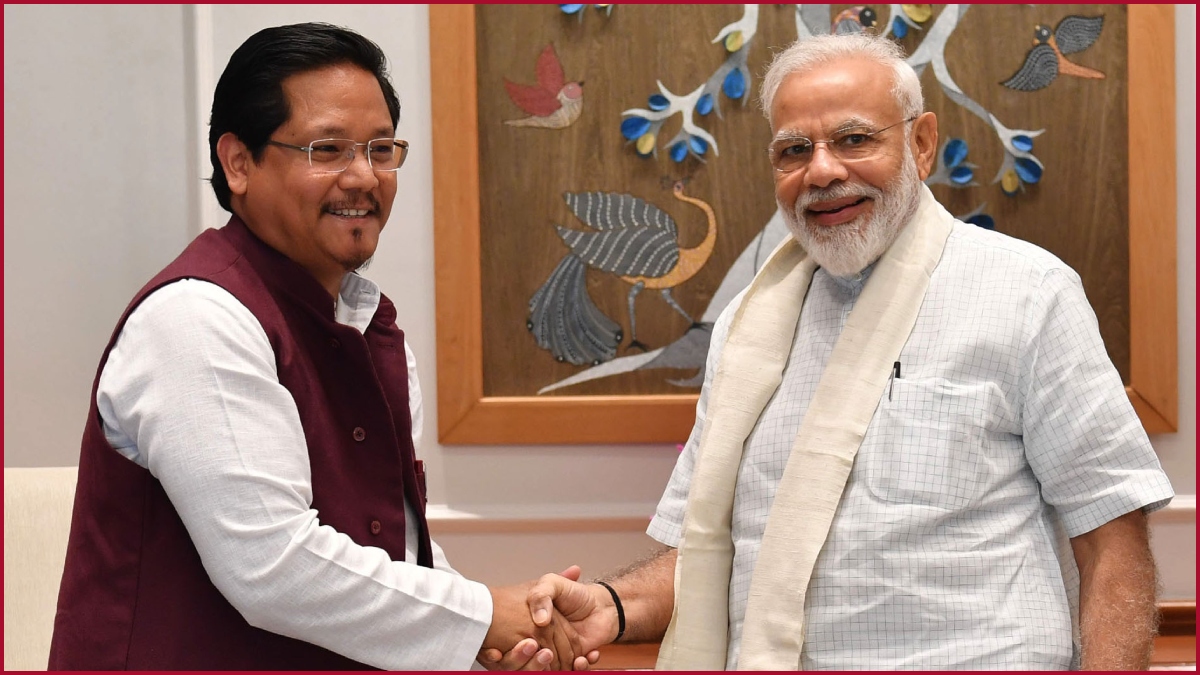 New Delhi: Counting of votes for Assembly polls in Tripura, Meghalaya and Nagaland was done today.
Meghalaya and Nagaland went for assembly polls on February 27 and voting was held in Tripura on February 16. The three states witnessed high voter turnout.
Full Winners List Party Wise, Constituency Wise, All Candidates, winners
LIVE UPDATES:
#NagalandElections2023: Neiphiu Rio congratulates Mrs. @k_salhoutuonuo and Mrs. @Hekani
Jakhalu on winning Assembly Elections pic.twitter.com/SuJcSI0aCv

— Newsroompost (@NewsroomPostCom) March 2, 2023
Mumbai | North-East developed under PM's guidance & today we've got result. We'll win 2024 elections. Rahul Gandhi wasted time with Bharat Jodo Yatra. Congress is breaking. They lost Tripura: Dr Ramdas Athawale, Union Minister https://t.co/AqU7Z5dnnk pic.twitter.com/kzHCEs7M86

— ANI (@ANI) March 2, 2023
#MeghalayaElectionResult: GENERAL ELECTION TO VIDHAN SABHA TRENDS & RESULT
Check Full List Here: https://t.co/Wp1qx4uqVq pic.twitter.com/0uIpSl3Mo8

— Newsroompost (@NewsroomPostCom) March 2, 2023
#NagalandElectionResult: GENERAL ELECTION TO VIDHAN SABHA TRENDS & RESULT
Check Full List Here: https://t.co/xE8J5P9PRM pic.twitter.com/nCa4OXl0Nk

— Newsroompost (@NewsroomPostCom) March 2, 2023
#TripuraElectionResult: GENERAL ELECTION TO VIDHAN SABHA TRENDS & RESULT
Check Full List Here: https://t.co/AMkL4iAJ7A pic.twitter.com/de7jNE5hOR

— Newsroompost (@NewsroomPostCom) March 2, 2023
#nagalandelectionresult: Nagaland BJP chief Temjen Imna Along wins from Alongtaki seat
| @AlongImna #NagalandElection | pic.twitter.com/E9B2RCskgS

— Newsroompost (@NewsroomPostCom) March 2, 2023
#MeghalayaElections: #ConradSangma in South Tura pic.twitter.com/5Zp79RUCDn

— Neha Singh (@SinNeha19) March 2, 2023
#WATCH | Celebrations begin at Meghalaya CM and National People's Party (NPP) chief Conrad Sangma's residence in Shillong.

As per official EC trends, the party has won 6 and is leading on 19 of the total 59 seats in fray. #MeghalayaElections2023 pic.twitter.com/suFhQPB0Fz

— ANI (@ANI) March 2, 2023
Meghalaya CM #ConradSangma thanked the people of South Tura, says "Mitela, धन्यवाद् and Thank You"
| #Meghalaya @SangmaConrad | pic.twitter.com/KYitQqiCth

— Newsroompost (@NewsroomPostCom) March 2, 2023
#WATCH | Tripura: Celebrations at BJP office in Agartala as the party has won 15 and is leading on 18 of the total 60 seats in the state.

CM Manik Saha, former CM and party MP Biplab Deb & party leader Sambit Patra join in the celebrations. pic.twitter.com/V1SWlYQN70

— ANI (@ANI) March 2, 2023
#WATCH | Tripura CM and BJP candidate from Town Bardowali, Manik Saha arrives at the party office in Agartala as the party wins 15 and leads on 18 of the total 60 seats in the state.

CM Saha himself has won from his seat. #TripuraElection2023 pic.twitter.com/siwfo0Zwzj

— ANI (@ANI) March 2, 2023
#WATCH | Tura, Meghalaya | "We'd like to thank the people of the state for having voted for us. We are short on a few numbers, so we'll wait for the final results to come out. We will see what next steps are to be taken based on the final results," says Meghalaya CM Conrad Sangma pic.twitter.com/281euGC6xp

— ANI (@ANI) March 2, 2023
#NagalandElectionResults2023 Full Winners List Party Wise, Constituency Wise, All Candidates, winners of BJP, NDPP and othershttps://t.co/ZINMD5V1nw

— Newsroompost (@NewsroomPostCom) March 2, 2023
#TripuraElectionResult2023 Full Winners List Party Wise, Constituency Wise, All Candidates, winners of BJP, Tipra Motha Party and othershttps://t.co/dgdhpNpz5A

— Newsroompost (@NewsroomPostCom) March 2, 2023
#MeghalayaElectionResults2023 Full Winners List Party Wise, Constituency Wise, All Candidates, winners of NPP, BJP and othershttps://t.co/EssSUX4Un0

— Newsroompost (@NewsroomPostCom) March 2, 2023
#MeghalayaElections | As per official EC trends, CM Conrad Sangma's National People's Party leading on 22 of the total 59 seats so far. Counting of votes still underway, trends on 55 seats known.

BJP and Congress leading on 6 seats each pic.twitter.com/5KSsnt0PRq

— ANI (@ANI) March 2, 2023
NPP leads in 11 seats, TMC's Mukul Sangma leading from Songsak
#Meghalayaelectionresults2023: Conrad Sangma's NPP leads in 14 seats: ECI pic.twitter.com/Bh6tC45Wt5

— Newsroompost (@NewsroomPostCom) March 2, 2023
#MeghalayaElections2023 pic.twitter.com/vOwQhlrhpP

— Neha Singh (@SinNeha19) March 2, 2023
#TripuraElection2023 | As per early trends, BJP and Congress leading on one seat each; Counting underway pic.twitter.com/Z1sF7dNENU

— ANI (@ANI) March 2, 2023
#MeghalayaElections | Garo National Council's Nikman Ch Marak leading from the Chokpot assembly seat, as per ECI

As per early trends, TMC leading on 2 seats in #MeghalayaElections pic.twitter.com/wlWMJld9m2

— ANI (@ANI) March 2, 2023
#MeghalayaElections | TMC's Dr Rajesh M Marak leads from the Rongara Siju assembly seat, as per ECI pic.twitter.com/KMqVKxYcZn

— ANI (@ANI) March 2, 2023
"We performed puja at the party office today and took blessings of Mata Tripureshwari. BJP will return to power in Tripura. We will get a majority," says Tripura BJP president Rajib Bhattacharjee ahead of counting of votes for #TripuraAssemblyElections2023 pic.twitter.com/neT0r1tK6r

— ANI (@ANI) March 2, 2023
Agartala, Tripura| Vote counting to begin at 8 AM. Visuals from counting centre, Umakanta Academy Complex pic.twitter.com/GB5GoQfqmh

— ANI (@ANI) March 2, 2023