Wedding Dance Goes Wrong: Bride and groom fall off the stage while performance (Viral Video)
While performing the wedding dance, the bride and groom fall off the stage. The video goes viral as soon as it was shared.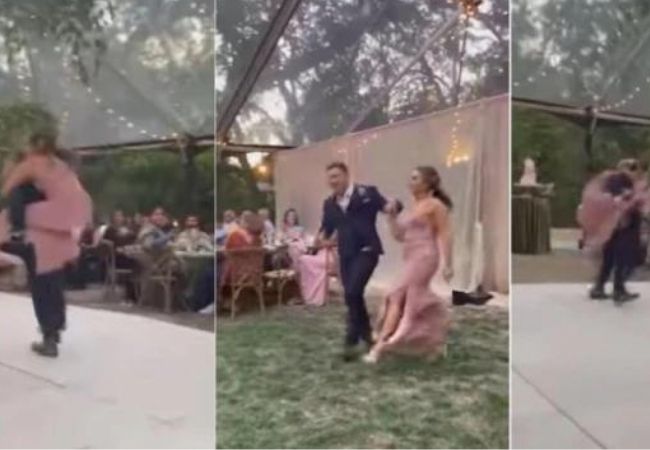 A wedding day is one of the most important events in a person's life. To make it memorable, a lot of planning is invested into it. Dance and drama are likely considered to be the most important ingredients to make the event complete. The audience witnesses a lot of dramatic entries at the wedding venue on the day of marriage. However, sometimes the day does not go according to the plan.Such an incident surfaced on the internet a few days ago.
The video shows a happy bride and groom walking into the wedding venue hand-in-hand. They headed straight to the dance floor matching the steps with each other. On reaching the center of the stage, the groom tried to lift the bride as a part of their dance. However, on losing balance they fall off the stage.
However, the couple did not lose enthusiasm as they quickly got up and started thumping their feet again. They laughed at the incident and did not allow the mood to get spoiled. Luckily, no one was injured.
The audience was left amused by the incident.
The video went viral over the internet since the day of its share. Until now, the video reached over 2.5 million views whereas gathered more than 56,000 likes.
Several netizens commented on the rare and funny incident. One of them wrote, "You're in a formal gown and suit why lift her like a cowboy," while another said, "What kind of entrance is this??" Another user stated, "l hope when we dance that we don't end up like that lol." "This is because it is the most they moved in a decade but standing ovation for the dust bites," read another comment.
Check out the video here:
View this post on Instagram