ICC ODI World Cup 2023: Netizens gets frustrated by the technical glitches in ticket bookings
Netizens are complaining about the services provided by official tickets booking partner BookMyShow.com.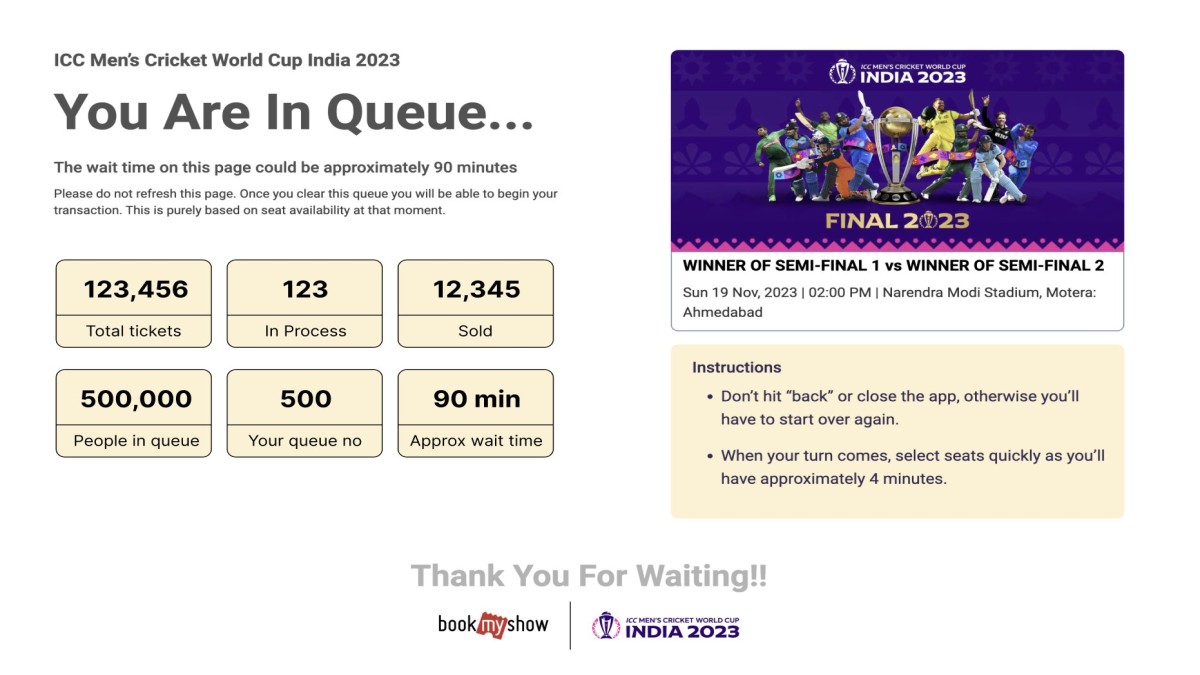 New Delhi: Cricket's grandest stage, the ICC ODI World Cup, is finally back, and this time, its home is none other than India.
Last time when the ODI World Cup was scheduled in India in 2011, Sri Lanka and Bangladesh were its co-hosts, unlike this time when India was the sole host of the tournament.
In 2011, MS Dhoni-led team India to win the entire thing through collective efforts and a bit of home advantage. This was the last time India won the World Cup, losing out in the semi-finals in both the 2015 and 2019 World Cup.
Since 2011, all three World Cups have been won by the host nations, i.e. India in 2011, Australia in 2015 and England in 2019.
So, with the chances of India's decade-long wait for an ICC trophy finally coming to an end, all the cricket fans in the country want to witness this grand event in person from the stadium.
However, the technical glitches on the website and app of the official ticket booking partners for ICC ODI World Cup 2023, i.e. BookMyShow.com, is leaving the fans in a state of frustration, and they are showing their disappointment through their posts on social media platform X (formerly Known as Twitter), in the hope that either BookMyShow or the organizers of the tournament can see and resolve their issues.
Check out their reactions below:
I think the most rubbish system of the World Cup Ticket Booking was this time via #BookMyShow

If this is how you organise the ticket allotment, better not to do so
DISAPPOINTING 👎🏻@BCCI @JayShah @bookmyshow @cricketworldcup pic.twitter.com/X1WPnIwevV

— Harshal Arya (@HarshalArya6) September 9, 2023
Booking tickets for ICC Cricket World Cup 2023 is a SCAM.@BCCI Why not say directly that you want to earn from black ticket sales. #ICCWorldCup2023 pic.twitter.com/YDtpVrb9aI

— Ankur kumar (@Ankurkrtweets) September 8, 2023
@bookmyshow @bookmyshow_sup so this is your new scam! After previous drama
Now you are not allowing to make payment
Tried 5 times & everytime error is coming 74101@ICC @cricketworldcup @BCCI @CabCricket how can you give bookmyshow world cup ticket booking right @venkateshprasad pic.twitter.com/Wza4pAMMNr

— Deep (@DeepChowdhury14) September 14, 2023
(1/2) 🏏🎟️ Tried booking #BharatVsPakistan World Cup tickets via @bookmyshow – a 🎢 of frustration! Seats looked available, but turned out "sold out." 😡 25-30 attempts, same story! Even on different devices, the saga continued. @bookmyshow, @ICC, @BCCI, help us out!🙏#Scam pic.twitter.com/nA8xZgp3ji

— Harsh Saxena (@harsh_saxena19) September 9, 2023
Hey @BCCI @ICC @bookmyshow today is 8th September and I was in the #INDvsPAK World Cup match queue.Being a fan I just wanted two tickets for me and a friend of mine. I was elated to pass the queue and reach this booking page only to see it's not responding at all. Help us please pic.twitter.com/FRUhMMdkSZ

— Arnav Malvia (@MalviaArnav) September 8, 2023
How booking a world cup ticket via @bookmyshow feels like: pic.twitter.com/aYIexUvi0t

— Guru Gulab (@madaddie24) September 8, 2023
Is Cricket World Cup ticket booking in Book my show is scam or the tickets really getting booked up ? @bookmyshow @BCCI #WorldCup2023 #AsiaCup2023 #Jawan pic.twitter.com/sjbb2hCyXR

— Cricspace (@cricspaceoffl) September 8, 2023
#BleedBlue , please give me those tickets. Waited in queue for three times but in the booking page I couldn't buy a single ticket. I am from Kolkata and waited for so long to watch cricket world cup match live. pic.twitter.com/bGO4J7gUkv

— Subha Pramanick (@SubhaPramanick8) September 8, 2023
Great to see digital queues of 90 mins for booking a World Cup ticket pic.twitter.com/ljClJiu7KO

— Lightning⚡ (@Aayush626) September 8, 2023
Arey vedya… @bookmyshow I have been patient for those 90 minutes and it's gonna be 2 hours now. I still can't get into the ticket booking page for World Cup Semi Final and Final. What is wrong with you guys????

— Hoggy Foggy (@HoggyFoggy22) September 14, 2023
Is there any chance of reopen Booking of ICC CRICKET WORLD CUP tickets???? (India Matches) @bookmyshow @BCCI @ICC @cricketworldcup #BookMyShow #ICCWorldCup2023 #BCCI #TICKETS

— Pratik Gaikwad (@pratikg1111) September 13, 2023