India Twitter rankings: PM Modi on top, Virat Kohli zooms to 2nd rank, Sundar Pichai is new entrant
February 23, 2021 19:22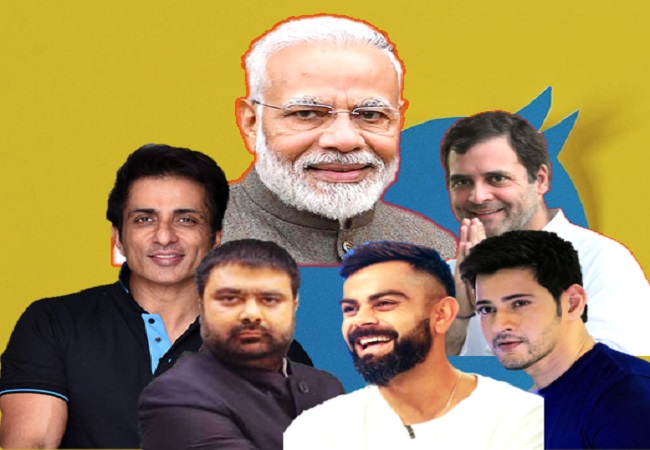 New Delhi: Prime Minister Narendra Modi is undoubtedly the most popular leader of the country and his charisma & mass appeal continues to be on the upswing. His popularity is evident from the groundswell of support that he gets during public rallies and on social media, rising number of followers reinforce his digital connect with countrymen.
In other categories, Team India skipper tops the Twitter chart in Sports segment. However, his wife Anushka's pregnancy followed by their parenthood has catapulted him to the top Twitter rankings for Janauary, displacing Rahul Gandhi from second spot.
Another notable change is in Busines Head category where Sundar Pichai, CEO of Alphabet Inc and its subsidiary Google has disrupted the Twitter rankings. Much like the pace of google, he not only entered the Twitter charts in that segment but also made it to the top with 4.3 engagements.
In Twitteet's January analytics report, PM Modi has once again topped the Twitter Engagement Rankings with over 8 million Twitter engagements.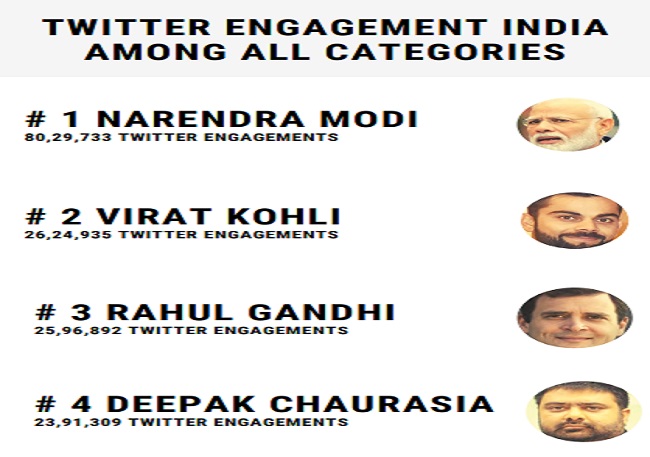 Twitteet, a social media analytics firm, does daily social media analytics for Twitter engagement for 20 categories and collates monthly data in several categories including Politicians, Journalists, Business Leaders, Movie & TV stars etc.
Twitteet co-founder Sandeep Amar, speaking on January analytics report said, "Engagement ratio is a key metric which we have added, it is essentially the ratio of total engagement divided by total followers. The public figures with higher followers do have an advantage, but engagement ratio shows how personalities are doing, when compared with their followers. We are also highlighting some of the personalities who are punching above their weight in terms of twitter followers."
January 2021 – Top Twitter Ranking in 11 Categories
1. Politicians – Narendra Modi – 80,29,733 Twitter Engagements
2. Bollywood – Sonu Sood – 14,26,286 Twitter Engagements
3. Business Head – Sundar Pichai – 4,38,704 Twitter Engagements
4. Cricketer – Virat Kohli – 26,24,935 Twitter Engagements
5. Sports Star (non-cricket) – Boxer Vijender Singh – 5,31,229 Twitter Engagements
6. TV Star – Sidharth Shukla – 3,21,963 Twitter Engagements
7. Journalist – Deepak Chaurasia – 23,91,309 Twitter Engagements
8. Founders – Cred's Kunal Shah – 99,015 Twitter Engagements
9. Comedians –Ashish Chanchlani – 5,82,661 Twitter Engagements
10. Regional Cinema Star – Mahesh Babu – 7,58,994 Twitter Engagements
11. RJ's – Radio Mirchi's Sayema – 2,97,896 Twitter engagements
Twitter Engagement – Politicians
Among Indian Politicians BJP dominated with PM Modi, Amit Shah, Yogi Adityanath and Sambit Patra taking 4 of the top 5 positions and 7 of the top 10 positions on engagement on Twitter. Congress leader Rahul Gandhi was at #2 with nearly 2.6 million engagements, followed by UP CM Yogi Adityanath (2.1 million), Home Minister Amit Shah (1.76 million) and party spokesperson Sambit Patra (1.11 million engagements) at #3, #4, and #5 respectively.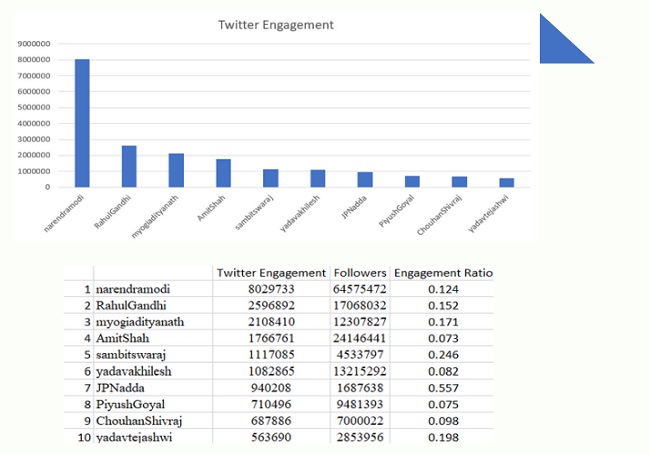 BJP President JP Nadda, Cabinet Minister Piyush Goyal and MP CM Shivraj Chouhan were at 7,8, and #9 respectively. Samajwadi Party's Akhilesh Yadav at #6 with 10.8 lakh engagement and and RJD's Tejashwi Yadav at # 10 with 5.63 lakh engagements were the only other politicians in the top 10.
Twitter Engagement –
Journalists
In the intensively competitive Journalists category, News Nation's Deepak Chaurasia yet again topped Twitter engagement with a whopping 2.3 million engagements. Sushant Sinha was at #2 with 1.13 million engagements followed by India TV's Editor-in-Chief Rajat Sharma with 8.82 lakh engagements. Chennai based, entertainment industry tracker Sreedhar Pillai is at #4 with 7.27 lakh engagements.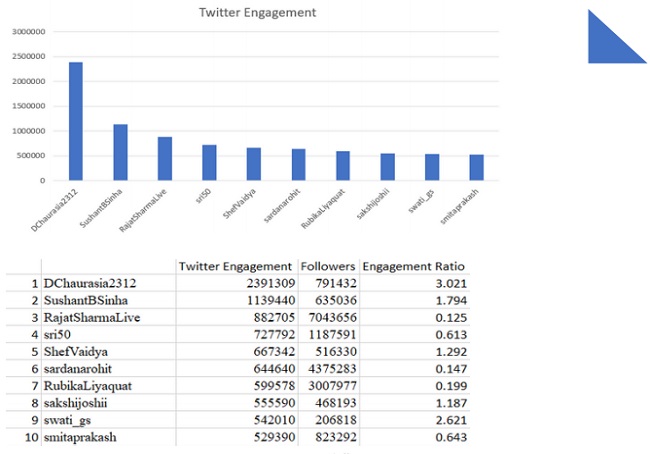 Shefali Vaidya is at #5 with 6.67 lakh engagements, AajTak's Rohit Sardana is at #6 with 6.4 lakh engagements – a huge jump from 3.48 lakh engagements in December. At #7 is ABP News's Rubika Liyaquat with 5.99 lakh engagement, at #8, Sakshi Joshi with 5.55 lakh engagements followed by Swarajya's Swati Goel Sharma at #9 with 5.42 lakh engagements and a new entrant to the top 10 – ANI's Smita Prakash with 5.29 lakh engagements.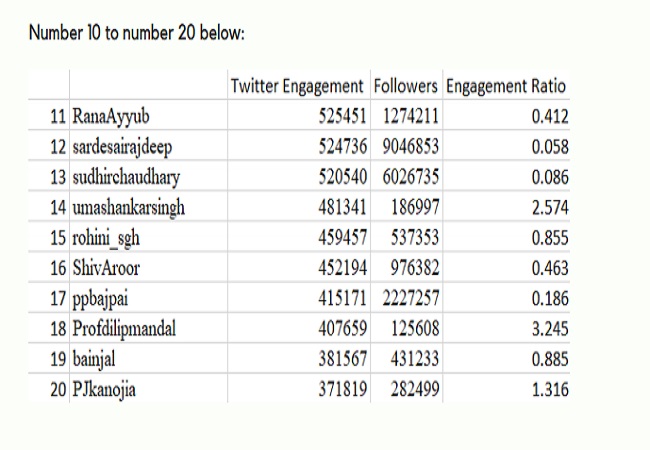 Rana Ayyub, India Today's Consulting Editor Rajdeep Sardesai and Zee News's Editor in Chief Sudhir Chaudhary was at # 11, #12 an #13 respectively.
Twitter Engagement – 
Business Leaders
In the Business Leaders category (which includes Indian Origin CEO's), Google's CEO Sundar Pichai had the highest engagement of 4.38 lakh beating perennial favourite Anand Mahindra who was at #2 with 3.59 lakh engagements. RPG Group's chief Harsh Goenka is at #3 with 2.37 lakh engagements.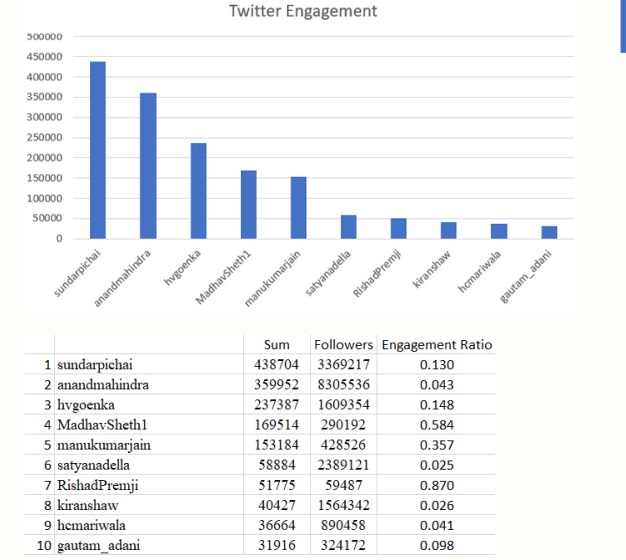 Chinese mobile phone brands India CEO's Madhav Sheth of RealMe and Manu Kumar Jain of XioMi and are at #4 and #5 respectively with 1.69 lakh and 1.53 lakh engagements respectively. Another global Indian Microsoft's CEO Satya Nadella with 58K engagements was at #6, followed by Wipro's Rishad Premji, Biocon Chief, Kiran Mazumdar-Shaw, Marico's Harsh Mariwala and Adani Group's Chairman Gautam Adani.
Twitter Engagement – 
Bollywood Stars
Sonu Sood's humanitarian work during the pandemic continues to see huge resonance on Twitter where even at a Twitter following of an eighth of super star Shah Rukh Khan (Sonu Sood's 5 million followers to SRK's 41.4 million followers) he topped Twitter engagement among Bollywood Stars with a whopping 14.26 lakh engagements. Akshay Kumar was at #2 with 7.2 lakh engagements and Anupakm Kher with 6.82 lakh engagements was at #3.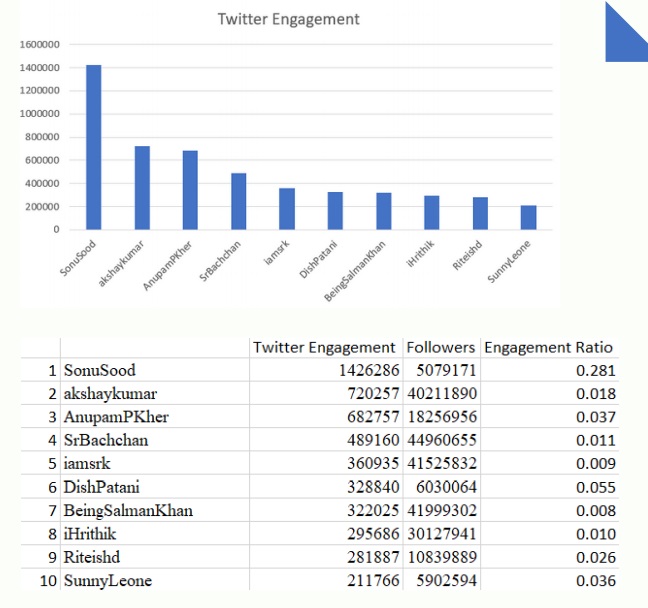 Amitabh Bachchan was at #4 with 4.89 lakh engagement followed by Shah Rukh Khan at #5 with 3.60 lakh engagements. Disha Patani at #6 with 3.28 lakh engagements and Sunny Leone at #10 with 2.11 lakh engagements were the only 2 lady stars on the Bollywood Top 10. Salman Khan wth 3.22 lakh engagements, Hrithik Roshan with 2.95 lakh engagements and Riteish Deshmukh with 2.81 lakh engagements were at #7, #8 and #9 respectively. Among regional actors, Telugu super star Mahesh Babu topped with 7.58 lakh engagements,
Twitter Engagement – 
Cricketers
The exciting India-Australia test series drove engagement for cricket and cricketers and India captain Virat Kohli topped Twitter engagement among cricketers with a whopping 2.6 million engagements. Overall Virat had the second highest Twitter engagement among all Indians on Twitter only after Prime Minster Narendra Modi. Anushka and Virat announcing the birth of their baby girl, no doubt had a big role to play.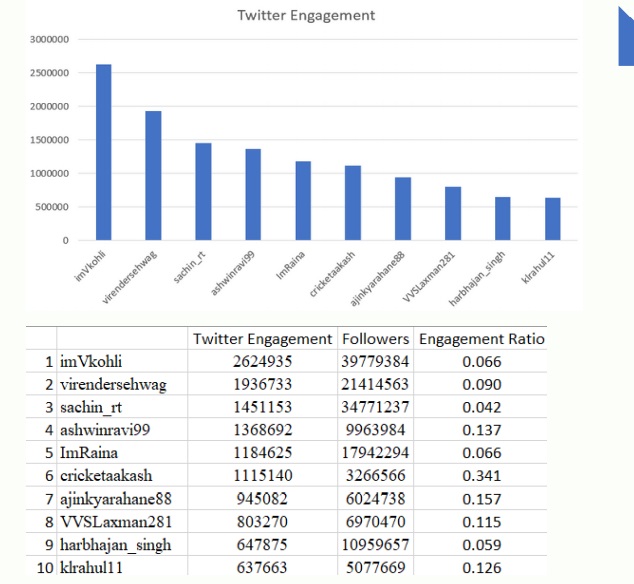 Virendra Sehwag was at #2 with 1.9 million engagements followed by Sachin Tendulkar at #3 with 14.5 lakh engagements. Ravichandran Ashwin was at #4 with 13.68 lakh engagements and Suresh Raina with 11.84 lakh engagements at #5.
Twitter Engagement –
Sports persons
Among Indian sports persons, outside of cricket, Olympic medallist, pro-boxer and Congress politician Vijendra Singh tops with 5.31 lakh engagements, driven I n part by his support to the agitating farmers. His support to the farmers protest did help boost his twitter engagement. Badminton star Saina Nehwal was at #2 with 1.49 lakh engagements followed by shooter Manu Bhaker at #3 with 1.19 lakh engagements and wrestler Yogeshwar Dutt at #4 with 1.14 lakh engagements.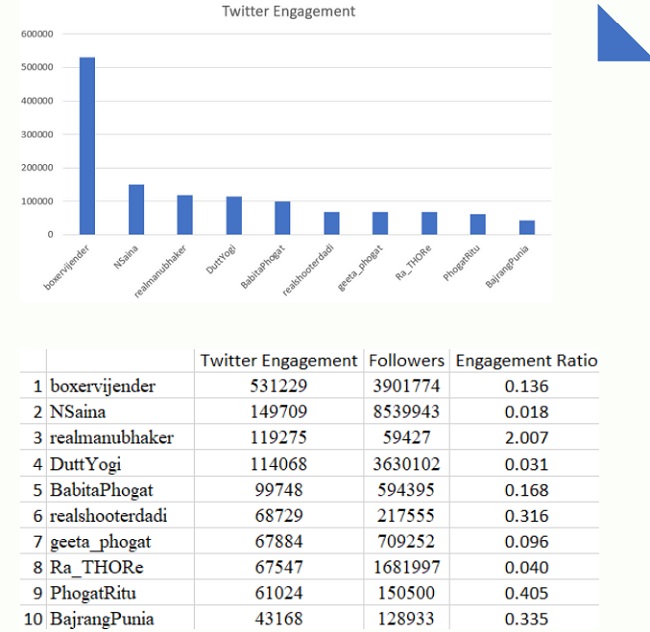 Perhaps India's best kept secret in sports is veteran pistol shooter, coach and sports enthusiast 88-year old Dadi Chandro Tomar, better known as 'Shooter Dadi' from Baghpat, UP. Since learning to shoot when she was well into her sixties, she has attained national fame as an accomplished shooter having won more than 30 national championships. She was at #5 in the non-cricket sports category with a phenomenal 68,729 engagements leaving superstars like Geeta Phogat, Ritu Phogat and Bajrang Punia behind!
Twitter Engagement – 
Comedians
In other categories, Comedians, RJs and Start-up founders made their mark. Among comedians, Ashish Chanchlani topped impressively with 5.82 lakh engagements with the next highest Vir Das at #2 with 2.74 lakh engagements. Kunal Kamra was at #3 with 2.3 lakh engagements.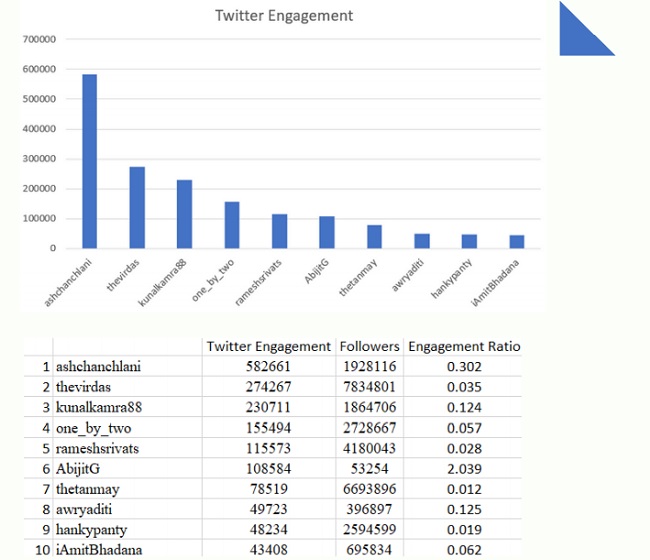 Cred Founder Kunal Shah towered over the Business Founders category with 99,000 K engagements. Among RJ's Radio Mirchi's Sayema – 2,97,896 Twitter engagements.
Twitter Engagement – 
Founders

Twitter Engagement – TV Stars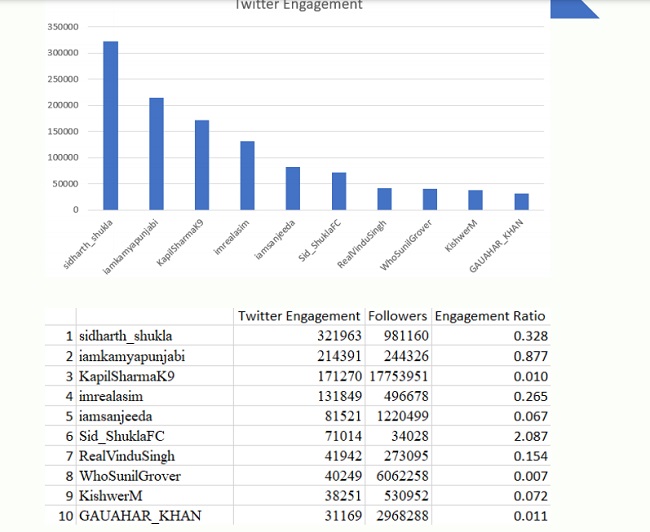 Twitter Engagement – Regional Cinema Actors

Twitter Engagement – Radio Jockey (RJs)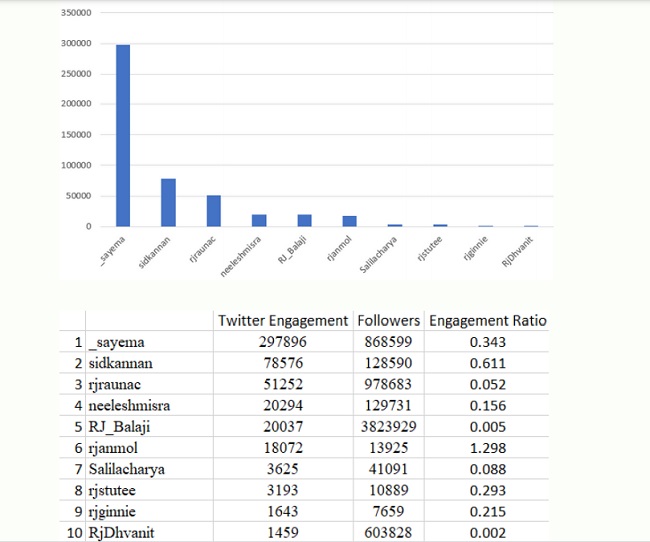 ((You can contact Sandeep Amar, Co-Founder, Twitteet on following links/no))
Details: www.twitteet.com
Contact: [email protected]
Mobile: +91 98111 34023