Home » Viral Check »
FACT CHECK: No, Kejriwal did not support farm bills; BJP's Sambit Patra tweets edited video
FACT CHECK: Sambit Patra tweets edited video to portray Arvind Kejriwal supporting farm bills
January 31, 2021 12:35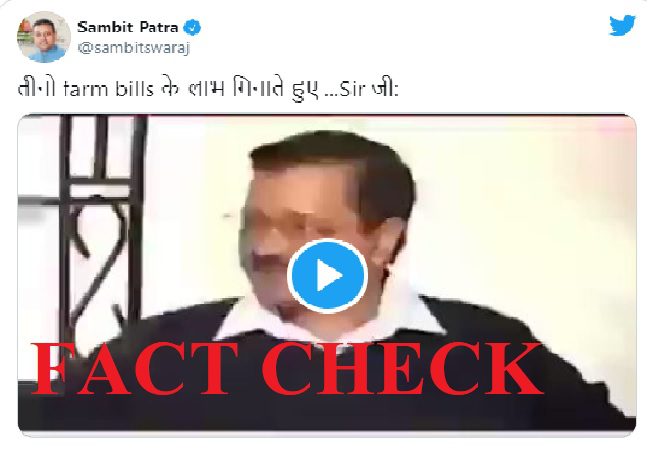 Bharatiya Janata Party spokesperson Sambit Patra shared a video of Delhi Chief Minister Arvind Kejriwal on Twitter. In the video, Kejriwal can be heard speaking in Hindi, which translates to, "With the bill your land won't go away, your MSP won't go, your Mandi (market) won't go away, now farmers can sell their crops anywhere in the country, now farmers will get good prices, he can sell it anywhere outside the mandi, Dilip ji this is the biggest revolutionary step in the 70 years in the agriculture sector."
What Sambit Patra Claimed:
The caption of the post reads, "Here, sir is mentioning the benefits of all three farm bills." Patra's tweet racked up thousands of likes and retweets at the time of writing.
तीनो farm bills के लाभ गिनाते हुए …Sir जी: pic.twitter.com/nBu1u7gkS7

— Sambit Patra (@sambitswaraj) January 30, 2021
The Tweet was further Retweeted by many.
Arvind Kejriwal led Aam Aadmi Party comes out in support of Farm Laws pic.twitter.com/8JkFnP1uOA

— J (@Sootradhar) January 30, 2021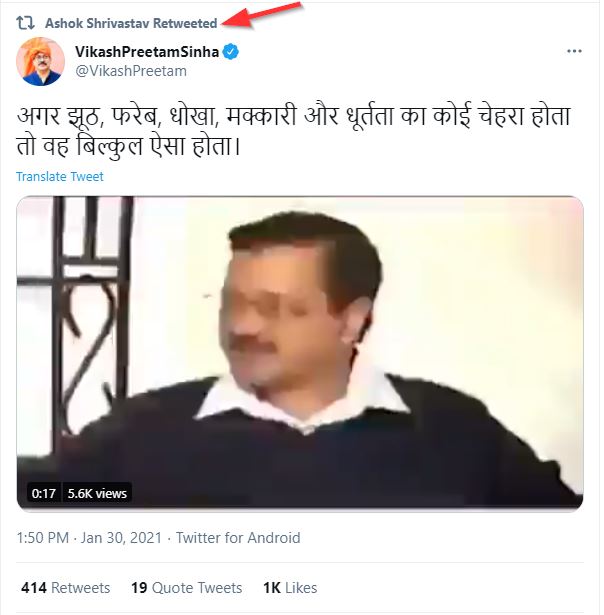 What the Truth is:
In the 18 seconds clip is from an interview and has been edited to make the false claim that Kejriwal praised the bills. But the truth is in the full video Delhi CM Kejriwal is criticizing the farm bills.

In the interview, from the six minutes timestamp, Kejriwal can be heard saying, "The central government and BJP has put out all their big leaders on the ground to make people understand that the bill is pro-farmers. I have heard all the speeches, what do they say in their speech." This line is followed by a part of heard in the viral clip, "With the bill your land won't go away, there is no advantage that was there only, your MSP won't go." He follows this up with a criticism saying, "there is no advantage that was there only, your Mandi (market) won't go away there is no advantage that was there only, what is the advantage their leaders can't explain only"
At the 9.48 minutes counter, Kejriwal supports the farmers' protest and says, "I have hope from this farmers' protests, Firstly these three farmers bills should be taken back. And second, they are demanding for a law for a guarantee of MSP should be brought. According to MSP Swaminathan Commission, MSP should be calculated by adding 50% of the cost according to the 50% profit. If it comes. Dilip ji, this will be the biggest revolutionary step in agriculture within 70 years." The part before the last sentence has been cropped to misleadingly show that Kejriwal has praised the farm bills.
FULL INTERVIEW
(Video Courtesy- Zee Punjab)