Bengaluru: SDPI's Muzammil Pasha arrested for organising, instigating violence
August 12, 2020 12:01
New Delhi: Muzamil Pasha, an SDPI leader has been arrested by Police in connection with DJ Halli police station violence in Bengaluru, said Mujahid Pasha, convenor SDPI (Social Democratic Party of India).
According to reports, the SDPI leader, along with two other SDPI leaders, Jaffar and Khaleel Pasha is said to have instigated the mob to pelt stones and torch vehicles near the police station. The police have arrested Muzammil Pasha, while two others SDPI leaders managed to fled the spot.
On Tuesday evening, a mob went on a rampage and unleashed brutal violence and arson over a Facebook post that was allegedly derogatory to Prophet Mohammad. The mob hit the streets near DJ Halli and KG Halli police station areas and attacked Congress MLA's house after one of his relatives shared a derogatory Facebook post.
Well planned and executed! Now government has to plan well and execute. @BSYBJP #bangaloreriots pic.twitter.com/fe3WzUtHne

— Chakravarty Sulibele (@astitvam) August 12, 2020
CT Ravi on violence
"I think it was a planned riot. Within an hour of a post on social media thousands of people gathered & damaged 200-300 vehicles & MLA's residence. We'll take serious action. It was an organised incident. SDPI is behind it," said Karnataka Minister CT Ravi on violence in Bengaluru city.
Deputy Commissioner visits riot site
GN Shivamurthy, Deputy Commissioner, Bengaluru Urban visited DJ Halli Police Station that was vandalised last night, as violence broke out over an alleged inciting social media post.
The incident that took place last night is very unfortunate. A lot of damage has been caused to public property. I appeal to all the people of the city not to be provoked or disturbed by this incident, he said.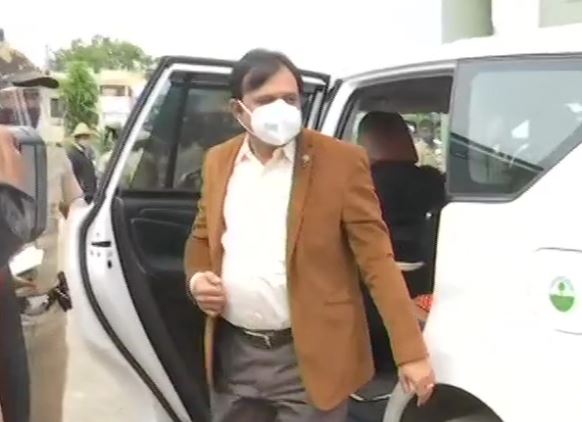 Two person dead
Two persons have died and around 60 police personnel have been injured in clashes that broke out here over an alleged inciting social media post, Bengaluru Police said on Wednesday.
#Bengaluru : सोशल मीडिया पोस्ट को लेकर @INCIndia विधायक के घर हमला, उपद्रवियों ने की आगजनी, पुलिस ने लिया एक्शन, 2 लोगों की मौत
|#BengaluruRiot #bengaluruviolence|

Visit our Youtube – https://t.co/hJrsvEpyyX pic.twitter.com/NuExFz8ZSA

— Newsroom Post (@NewsroomPostCom) August 12, 2020
Section 144 imposed
Police have imposed Section 144 of Code of Criminal Procedure (CrPC) in Bengaluru to prohibit the assembly of four or more persons in an area, while curfew has been imposed in DJ Halli and KG Halli police station limits.
Akhanda Srinivas Murthy's appeal
MLA Akhanda Srinivas Murthy requested the mob not to act violently and let the law take its course against those miscreants who are behind the act.
MLA Akhanda Srinivas Murthy requests the mob not to act violently and let the law take its course against those miscreants who are behind the act. pic.twitter.com/oUA2FubTun

— Bangalore Mirror (@BangaloreMirror) August 11, 2020