"Don't pretend to be pressman… hawa nikal gayi": Rahul gets furious on scribe's question (VIDEO)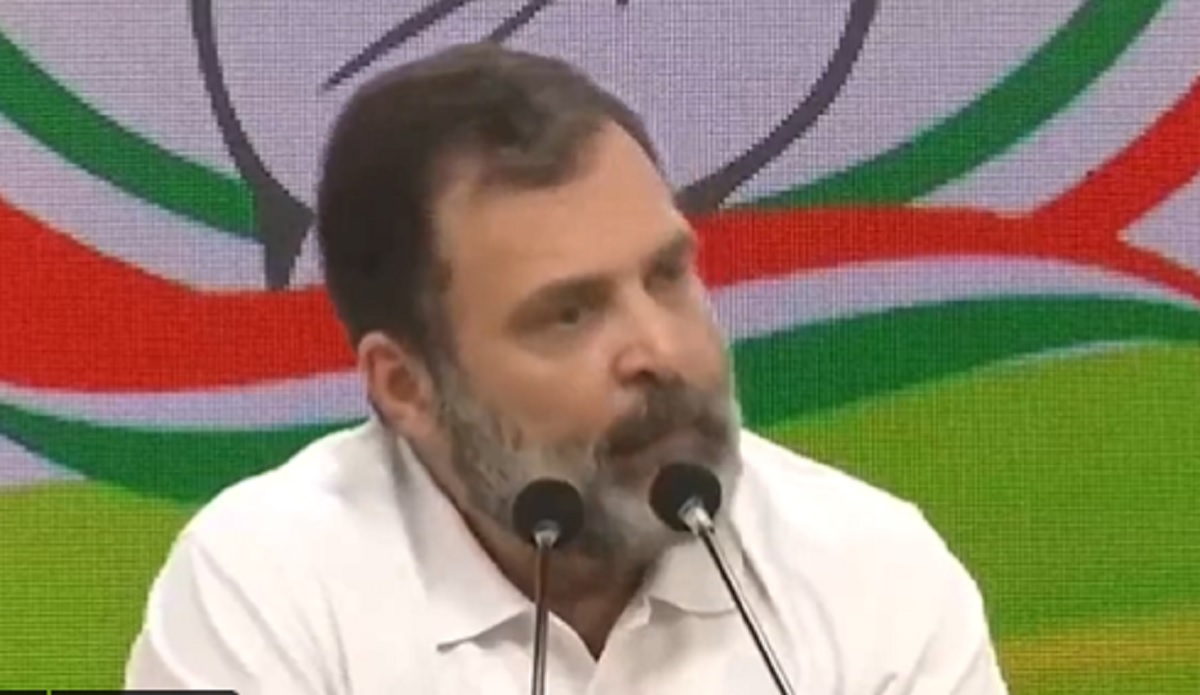 New Delhi: Congress leader Rahul Gandhi lost his cool during the Congress press conference, first after his disqualification from Lok Sabha, and lampooned a journalist for asking question on the 'Modi surname' defamation case.
The former Congress chief lambasted the media person when the latter asked about his conviction & subsequent disqualification from House.
Rahul lost his temper over journalist's question and assailed him publicly.
"Don't pretend to be a pressman. Hawa nikal gayi," said Rahul in a sarcastic tone.
The journalist had sought Rahul's reply on BJP's allegations that the Congress leader had insulted OBC community with his remarks that "all those with Modi surnames were thieves."
#WATCH | "Don't pretend to be a pressman…Kyun hawa nikal gayi?", says Congress leader Rahul Gandhi to a journalist questioning him on his conviction in 'Modi surname' case pic.twitter.com/SdaaUeraoy

— ANI (@ANI) March 25, 2023
To this, Rahul replied, "How you you work so directly for the BJP? If you have to ask such questions, you should do in some indirect way. If you want to work for the BJP, wear a BJP band on your chest. Then I will answer you the way I answer to others."
Rahul was convicted by a Surat court on Thursday for defamatory comments against Modi and was given 2 years jail term. He however was also granted bail & a 30-day time period to appeal against his sentencing.
The conviction came on back of Rahul's remarks during the 2019 General Elections campaign, where he asked at a public rally that "why all thieves have their surnames as Modi?"
"Not scared, PM must answer"
Rahul also looked unfazed by his disqualification and dared the Centre to press more charges against him.
He said that he was not scared of anyone including jail term or disqualification and he will continue to work for restoring nation's democratic values.
"The Prime Minister is scared of my next speech on Adani, and I have seen it in his eyes. That is why, first the distraction and then the disqualification," he said.
Rahul said that the whole drama was being enacted to defend PM Modi from simple question – Who funded Rs 20,000 crore in Gautam Adani's shell companies.
BJP rips into Rahul for insulting scribe
Following his outburst on scribe, the BJP hit out at Rahul Gandhi and said this shows the typical mindset of dynast leader who sees nation as his fiefdom.
"First, they insult OBC, then the court and now the journalist," wrote BJP spokesperson Shehzaad Poonawala.
First insult OBCs
Then insult courts
Now insult journalists

Typical behaviour of an entitled brat & Shehzada

पहले ओबीसी का अपमान करो
फिर अदालतों का अपमान करें
अब पत्रकारों का अपमान करो

एक शहजादा का विशिष्ट व्यवहार pic.twitter.com/xNd6p0FHt4

— Shehzad Jai Hind (@Shehzad_Ind) March 25, 2023