In UP's Badaun, Covid-19 norms go for a toss as hundreds turn out for funeral of Islamic leader (VIDEO)
May 10, 2021 18:38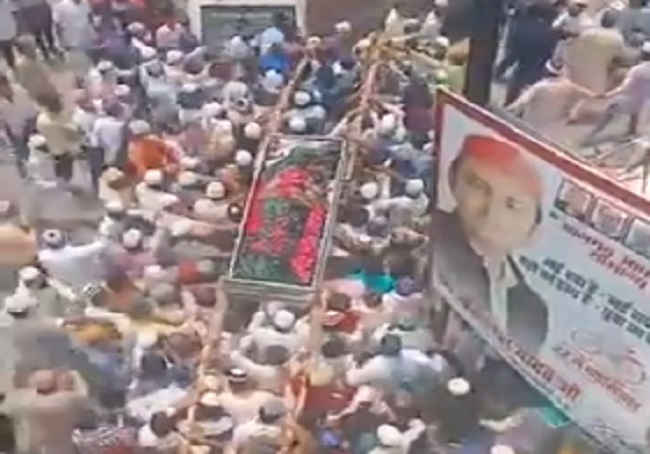 New Delhi: Despite the burgeoning scale of growth in fresh Covid-19 patients, hundreds of people gathered in Badaun district of Uttar Pradesh and joined the funeral procession of Islamic cleric named Qazi Hazrat Abdul Hameed Mohammed Salimul Qadri.
There was complete violation of Covid-19 norms, open violation of social distancing norms despite the state being in a lockdown to contain the contagious virus.
Hazrat Abdul Hameed Mohammad Salimul Qadri, also known as Salim Mian, the Qazi of Uttar Pradesh's Badaun district passed away in the month of Ramadan, passed away on Saturday at around 3:51 pm.
With hundreds turning up for the funeral of Islamic cleric, the Corona protocols laid down by the state govt & Centre went for a toss as people were seen rubbing against with each other, leave aside maintaining social distancing. State govt has already restricted number of people at funerals to maximum 20 people to contain the virus. What's more shocking, as evident from the video, was the fact that most of the people were seen without masks in the funeral procession.
Despite Covid threat, thousands of people gathered during the funeral of Zila Qazi in UP's Budaun district. Most of the people were not wearing masks. @Uppolice have registered an FIR on Monday. @Benarasiyaa pic.twitter.com/sC4fanQp19

— Kanwardeep singh (@KanwardeepsTOI) May 10, 2021

Such flagrant violation of Covid norms may prove fatal not just for those assembled but also for those in vicinity as such gathering give a perfect breeding ground for the infectious virus.
बदायूँ में जनाजे में भीड़ का वीडियो हुआ वायरल। कोरोना संक्रमण के बीच इस तरह की तस्वीर डराती है। देश-दुनिया के हालात देखने के बाद भी क्या डर नहीं लगता? pic.twitter.com/TneR651TX9

— sanjay tripathi (@sanjayjourno) May 10, 2021
FIR registered for violating COVID protocol
Police on Monday, May 10, said that unidentified people have been charged with breaching COVID rules during the funeral procession of the religious leader.
Superintendent of Police, Sankalp Sharma informed, "An FIR has been registered against unidentified people for breaking COVID protocol and gathering in large numbers in the procession. FIR was lodged under IPC 188 (violating prohibitory orders), Epidemic act and relevant sections of IPC."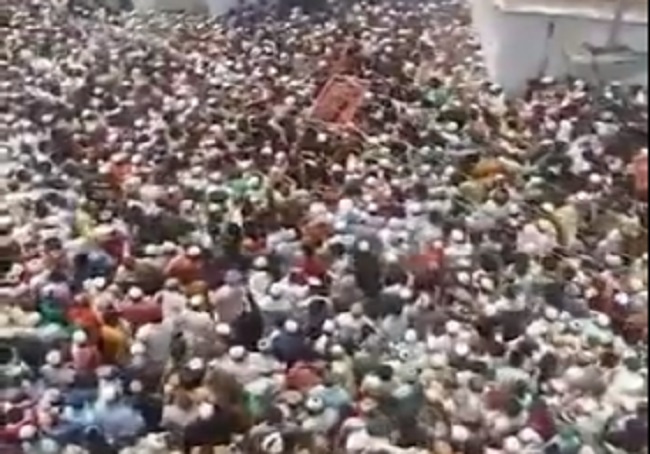 He stated that those who are found guilty will face severe consequences and that suspects will be detected using video footage from the procession.