PMGKAY extended, 80 crore people to get free ration till November: PM Modi (VIDEO)
The Home Ministry on Monday issued new guidelines for 'Unlock 2' which will come into force from July 1 extending the process of phased re-opening of activities including expanding in a calibrated manner domestic flights and passenger trains.
June 30, 2020 08:28
New Delhi: Prime Minister Narendra Modi on Tuesday announced that his government will extend till end of November, the Pradhan Mantri Garib Kalyan Anna Yojana, under which foodgrains are being provided to the poor and needy.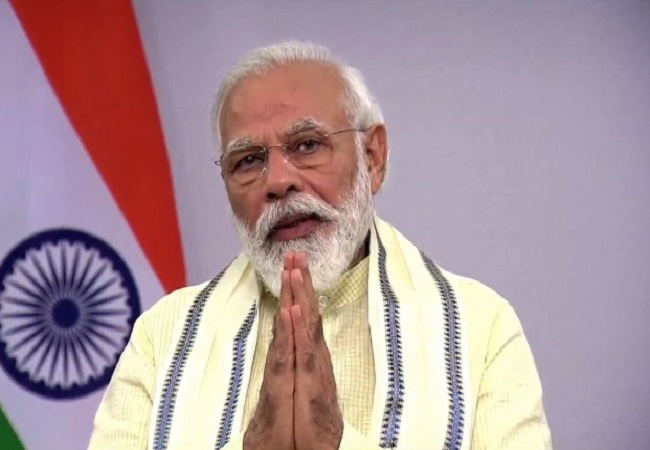 "From July the festival seasons start, Guru Purnima will be celebrated on July 5. Following this, the month of Saawan will start. In this season of festivals, the needs and expenses of all increases. Keeping this in mind, the PM Garib Kalyan Ann Yojana has been extended till Diwali and Chatth Puja, i.e till the end of November," the Prime Minister said.
"The scheme will provide 80 crore people with free grains, will now be applicable in July, August, September, October and November too. The government, during these five months, will give each family member 5-kilogram wheat or 5 kilogram rice free of cost, apart from this each family will get free one kg of chana (chick peas) too every month," he added.] The Prime Minister further said that the extension of this scheme will require an additional expense of Rs 90 thousand crore.
"If we add the expenses incurred during the past three months then it totals to around Rs 1.5 lakh crore," he further said. The scheme was announced by the Centre as part of the first rescue package during the COVID-19 pandemic. The scheme ends on June 30.
WATCH PM Modi LIVE:
HIGHLIGHTS:
# Today, if the government is able to provide free food grains to the poor & the needy, the credit goes to two sections. First, the hardworking farmers of our country and second, the honest taxpayers. I thank you from my heart: PM Modi
# PM Gareeb Kalyan Anna Yojana will be extended till the end of November, extension to cost over Rs 90 thousand crore: PM Narendra Modi
# Under PM Garib Kalyan Yojana, we announced a package of Rs. 1.75 lakh crore. In the last 3 months, Rs. 31,000 crore deposited in bank accounts of 20 crore poor families. Also, Rs. 18000 crore deposited in bank accounts of more than 9 crore farmers: PM
# During lockdown, rules were strictly abided by. Now, govts, local administration and citizens again have to show similar caution. We need to have a special focus on containment zones. If you see someone flouting norms, tell them to not do so: PM Modi
# Ever since Unlock1 started in the country, negligence in personal and social behaviour has been increasing. Earlier, we were more cautious about the use of masks, 'do gaj doori' and washing hands several times a day for 20 seconds: PM Modi
# In comparison to other countries across the globe, India is still in a very stable situation, in the battle against #COVID19. Timely decisions and measures have played a great role: PM Modi
# We are entering UNLOCK2 and the season of cough, fever and cold is also about to start. In such a situation, I urge countrymen to take care of themselves: PM Modi
"Prime Minister @narendramodi will address the nation at 4 PM today," read a tweet from BJP Twitter handle.
Prime Minister Shri @narendramodi will address the nation today at 4 pm.

Watch LIVE at
• https://t.co/vpP0MI6iTu
• https://t.co/KrGm5hWgwn
• https://t.co/lcXkSnweeN
• https://t.co/jtwD1yPhm4 pic.twitter.com/dAKC3h9fg2

— BJP (@BJP4India) June 30, 2020