Home » Viral Check »
Fact Check: Viral tweet claims Rafale jet crash in Ambala, Air Force Twitter handle used for breaking news
A twitter handle by name of ISI circulated fake news about Rafale plane crash. It used photoshopped image of IAF twitter handle for spreading false propaganda. Here is the fact check.
September 8, 2020 15:02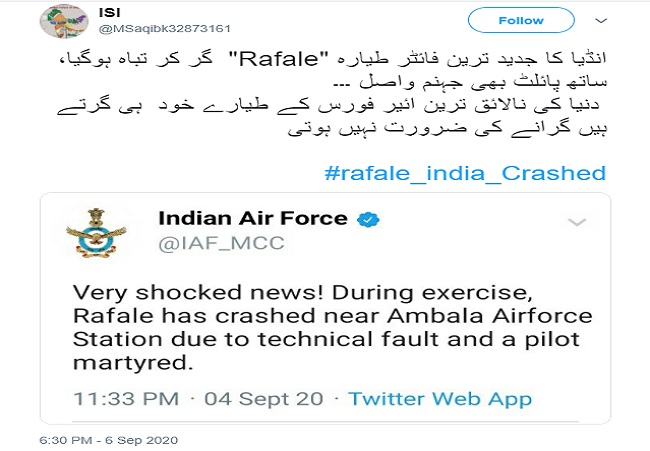 New Delhi: A tweet about Rafale fighters jets found enough traction on social media, as it that 1 jet has crashed near the Ambala airforce station. It also claimed that one pilot has been martyred in the ill-fated incident. What grabbed the attention of viewers is that this was tweeted by the verified Air Force Twitter handle. In our investigation, we found out how the social media is being used with impunity in peddling fake news and creating unnecessary controversy.
Viral Claim
The viral tweet reads, "Very shocked news! Rafale has crashed near Ambala Air Force Station due to technical fault and a pilot martyred." The tweet, allegedly by Indian Air Force was shared by ISI twitter handle.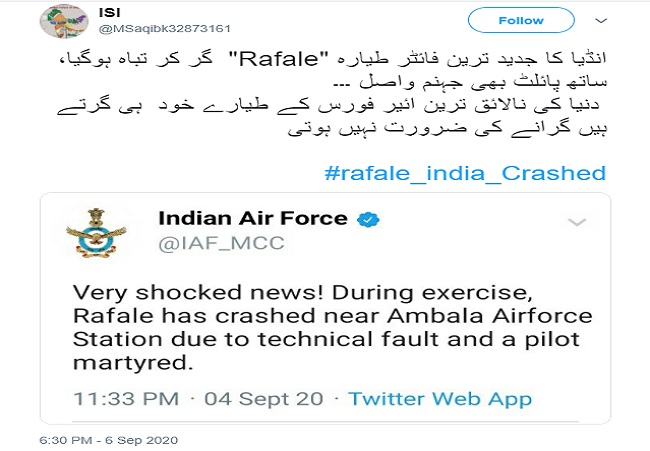 Investigation
In the viral tweet, official twitter handle of Indian Air Force – @IAF_MCC was used for breaking this news. According to viral claim, the tweet about crash was posted on 4th September at 11:33 PM.
Newsroompost did some research on it, investigated the Twitter handles and concluded that this handle was indeed of Indian Air Force. This twitter account was made in 2016 and has huge following of 1.6 million people. On Sept 4, this handle posted a couple of tweets but this viral claim was nowhere in the list. This means Air Force account was doctored/photoshopped to create this effect.
Even on searching google about Rafale plane crash, we didn't get any information either about the crash or casualty. Had there been any such incident, it would have been all across the internet.
We further spoke to intelligence officials and internal security experts to ascertain this. They called it a propaganda campaign by vicious neighbours. They said, ever since Rafale's induction in Indian Air Force, several fake news & opinions are floating on the social media. We must not give credence to them, as it is part of motivated and malicious agenda.
We further searched this twitter handle which shared fake news from IAF account, we found it to be a Pakistan handle, with over 250 followers.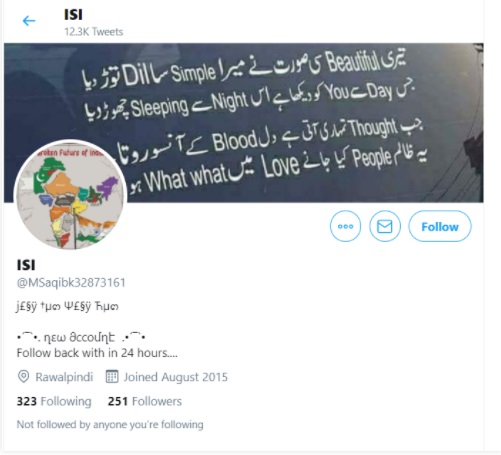 Truth
Viral tweet claiming Rafale crash is outrightly false and fake. No such crash happened, it is a propaganda by India's enemies.